Football success leads to post-season bowl game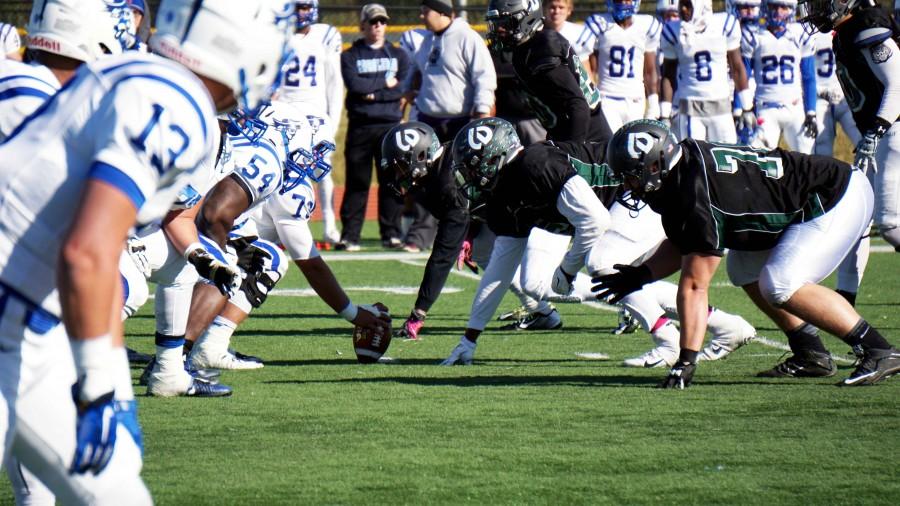 Lucas Koprowski, Sports Editor
November 18, 2015
Reading Time:
2
minutes
The football program at the College of DuPage hasn't been this successful since 2013, when the team went to the Carrier Dome Bowl in Syracuse, NY in 2013. The team has gone 8-1, only losing their homecoming match against Iowa Western Community College, and finished their regular season ranked sixth in the nation.
This year has brought a strong season for the DuPage squad, being ranked highest in the 15 years of recorded NJCAA standings. In conjunction with their high national ranking, they are also ranked fourth in passing yards per attempt, 9.7, fourth in yards per rush, 6.9, and are tied for first in red zone completion percentage, with 100%.
Many of the starting players have led the team with their significant contributions throughout the season. Starting Quarterback Devin O'Hara has thrown 1,786 yards over his nine games, Christian Ellison has rushed 744 yards and Crissean Caver-Williams led the team with 35 receives for the season.
In addition to their national standing, the Chaparral team also has the second best defense in the nation,only allowing 14.1 points per game, and nabbing 17 interceptions in the nine games they have played. As noted by Head Coach Matt Foster, "I am just extremely proud of the players and coaches- they have done a fantastic job representing our outstanding institution.  Great young men and coaching staff. "
Although they aren't eligible to compete in the NJCAA National Finals game, due to it being the top two teams nationally ranked in a winner-takes-all game, they are able to compete in one of the six different bowl games hosted throughout the nation.
To earn an invitation to an NJCAA bowl game, the teams have to be within the top 12 teams in the nation.
The six different bowl games are held across the nation in December. Possible locations for where our bowl game will be held are: Yuma, AZ; Copperas, TX; Hutchinson, KY; Biloxi, MS; Cedar Falls, IA; and Maricopa County, AZ.
Foster said he is proud of his team's performance this year. "There are six national bowls for post-season competition for the entire NJCAA member football institutions, so getting an invitation is also quite an accomplishment.  We will know our status as it pertains to a bowl game next Tuesday (Nov. 17)."
With a strong season behind them, they are charging head first to their bowl game that will occur sometime in early to mid-December. A victory will bring COD its first bowl championship in school history.
UPDATE: The Chapparal Football team will be facing Arizona Western at the El Toro Bowl down in Yuma, AZ on Saturday, Dec. 5.