Chaparral Soccer success has shined brightly at COD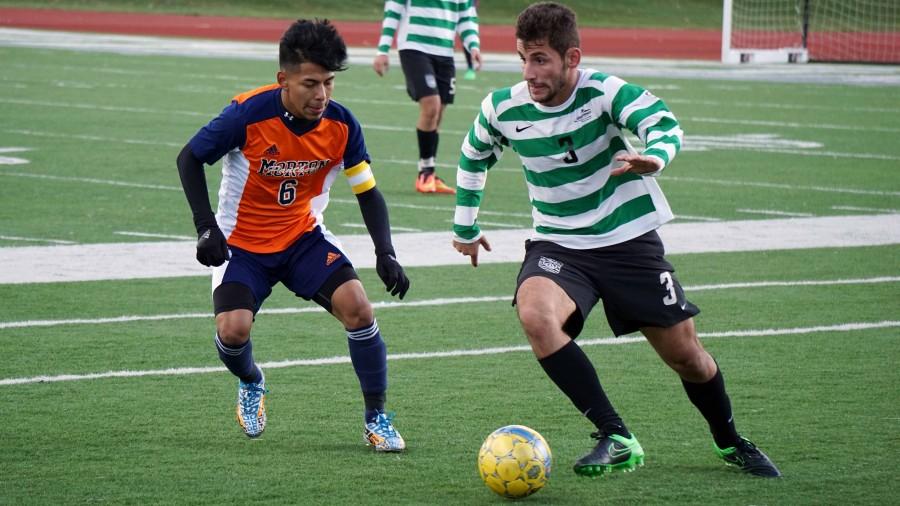 Lucas Koprowski, Sports Editor
November 11, 2015
Reading Time:
4
minutes
This year, the soccer program at the College of DuPage has been very successful. The men's team finished second in their Region IV championship this past Saturday, Nov. 7, by losing against Morton Community college 3-2. They defeated the local rivals earlier in the season 4-3, but couldn't execute in their regional final. The women's team on the other hand has pushed even farther, going to the NJCAA National Tournament from Nov. 12-15, by winning both their Regional and District championship matches to qualify.
One reason for the Chaparral success in the soccer program is believed to be that DuPage County is rich in athletic talent. As Head Coach of Women's Soccer Willie Fajkus noted, "It's not a coincidence. There are a lot of good athletes and high schools in the area, and if you can tap into it, these teams tend to do pretty well."
There are over 10 different high schools, public and private, that cycle athletes to COD. Although there are only a few high school teams in the county that make it to their State Championships, the schools in this county have been successful in the past in making it to the Illinois High School Association (IHSA) Finals for their respective sports. For instance, the Hinsdale South High School Women's soccer team made it to their State Finals tournament in 2014, receiving fourth place after losing their semi-final and third place matches.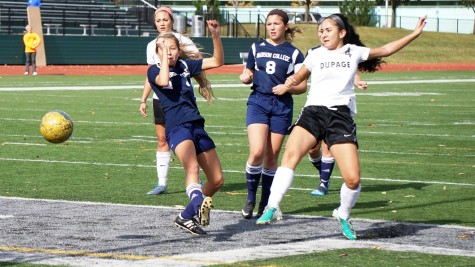 Women's squad scores their spot for nationals
The women's team has been completely dominant this season, being undefeated in conference and 15-2-2 for their entire season. While talking about why the women's team has been so successful, Captain Alexis Espositista-Aliga said, "I think it comes from everybody knowing their role on the team and just playing well as a team. All of us knowing our role on the team, and training and playing to the best of our ability has led us to where we are now."
The team was able to devastate both their regional and district finals, as well put their name on the top ten list for many different statistics throughout the national records. For instance, out of the entire NJCAA Division III women's soccer league, the team has played the most matches, 22, they have the most assists, 110, the second most goals scored, 75, and the third most shots taken, 385. They also have the second most yellow cards, 11, and is tied for the fourth most red cards, ironically only having one.
The women's squad has shown that they are capable of bringing home the college's first national championship since Track and Field brought home the gold in 2010. Although the squad has been on a seven game win streak, the NJCAA seeding wasn't in their favor. The Chaparral squad was placed in the bottom half of the eight team national seed. "We've got a six seed, so I guess nothing's expected of us," said Fajkus. "We're excited. I anticipate that we'll surprise some people when we get there."          
The Chaparral women's soccer team heads out this week to face their four-day long battle for the National Championship down in Toms River, New Jersey, facing Broome Community College in their first match. Although Broome has only lost one match out of their 18 games this season, the Chaparrals squad has shown time and time again that they are capable of defeating the challenges placed in front of them with their seamless teamwork.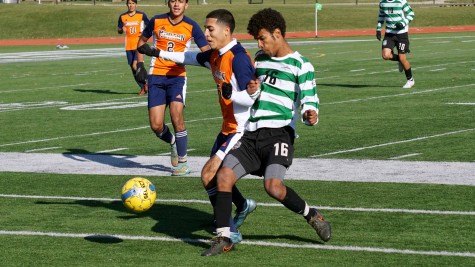 Men's team fails to conquer Morton, finish second in Region IV Finals
While the Women's team has strived and succeeded in their run for the national tournament, the men's team was defeated by Morton Community College at the Region IV Finals. Although the team was very successful this season, being second in their conference, they finished the Region IV Tournament just like conference – in second.
While talking about the Chaparrals performance at the finals match, Head Coach of Men's Soccer Jim Kelly noted, "I was very disappointed first half, but they kept going at least. When we got tied, I thought we had a good chance. Then we made another defensive mistake, gave them the break and let them have a third one. It was a battle from the back."          
Although the team made mistakes, many of the players tried their hardest out there to get a win to no avail. Forward Cody Dilworth tried hard to break out the ball down the middle, to only be
stopped by the countless players going against him at once. Another forward, Jordi McCormack, battled the adversity as well, being ganged up on by the Morton players. He was able to break past two or three players at a time more often than not, but to only be shut down by another Morton defensive back once deeper in their zone.          
The Men's season was a long and hard fought battle, with the team being 11-6-3 for the season, and being fifth in the nation for shutouts. They had seven shutouts with goaltender Eric Goode and two from Colin Weigel. As well, the team played better than many teams within the region that are acclaimed to have more talent than the Chaparral squad throughout this year's regular season.          
"In terms of overall talent, there were quite a few teams that might have been a little bit better than us this year, but at least they worked hard and kept going," said Kelly, "That was a theme this year for the team, to give your best effort every single time. By the end of the season, we started getting out of that some games."
Overall, the men's squad played a tough game this season, but slipped in their discipline at the wrong moment. Although they fought hard, succeeding even the coach's expectations, they were bested; now all they can do is train harder for next year's season.