Chaparral Men's Soccer becomes a powerhouse of their region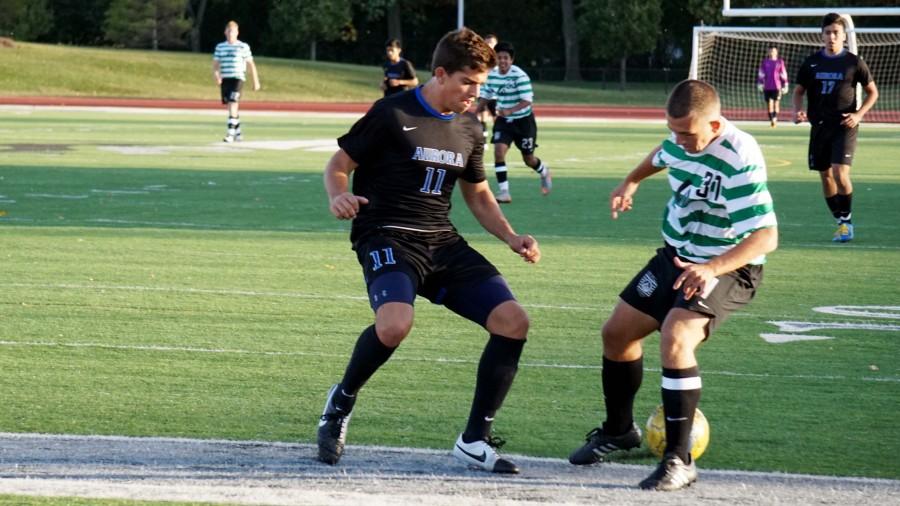 Lucas Koprowski, Sports Editor
October 21, 2015
Reading Time:
2
minutes
The Chaparral Men's soccer team has had a strong season this year, being 4-1 in conference and 9-4-1 for the season overall compared to last year's 8-10-1 overall record.
After the team added Aurora University JV to their long list of opponents that they shutout this season on Oct. 15, Head Coach Jim Kelly talked about a bright future for the team come the Regional Tournament.
"I can tell you right now if we play in regionals like this, quick and over-and-out, we will win," said Kelly.
The Chaparrals have to play two more games in their conference to know where they place in regionals, and where they are placed in the regional tournament. This year, the team has earned a bye for the first round, and will face an opponent based on these upcoming conference matches.
"The next two games are the most important games because if we win we'll finish second, if we lose we'll finish third," said Kelly. "We'll play an easier opponent if we finish second, so hopefully we can win. We need to win one of those two to finish second in the region."
One of the reasons why the team has been doing much better this year is due to their freshman starting goalie Eric Good, who has led the defensive line to five of their seven shutouts this season. He has a .8 save percentage and only allows on average 1.16 goals per game.
While talking about the upcoming regional playoffs, Good said: "It's going to be tough for sure. Every game we've had so far in conference has been a tough battle, so it's going to be a battle of who wants it more, rather than who's the better team."
The team also has a strong offense this year, ranking in the top 50 teams in the nation for goals and has had on average 3.21 goals per game. On the other hand, the team has been very aggressive overall this season, ranking ninth in the nation for red-carded players, with four red cards so far this season. That is already double that of last year's season, where they only cashed in two red-carded players.
Although their aggression on the field this season has led to more ejection of players, it is also the reason why they are ranked so highly in the 17-team regional conference where they reside, with a high probability of placing second going into regionals.
Although the team had a slow start to this season, where they lost three of their first five matches, they have learned to combine all of their individual skill and has crafted a squad that has dominated this season.
With a successful squad, the Chaparrals head into their match against Oakton Community College on Thursday, Oct. 22, to determine where they place in the region at the end of regular season, and to see who they will match up against at the Regional Tournament. Last year, the team was 1-1 against Oakton, but with Oakton having not seen a victory since Sept. 22 this season, the Chaparrals are the favorites in their final home match of the season.