Chaparral Football grows and strives for the National Tournament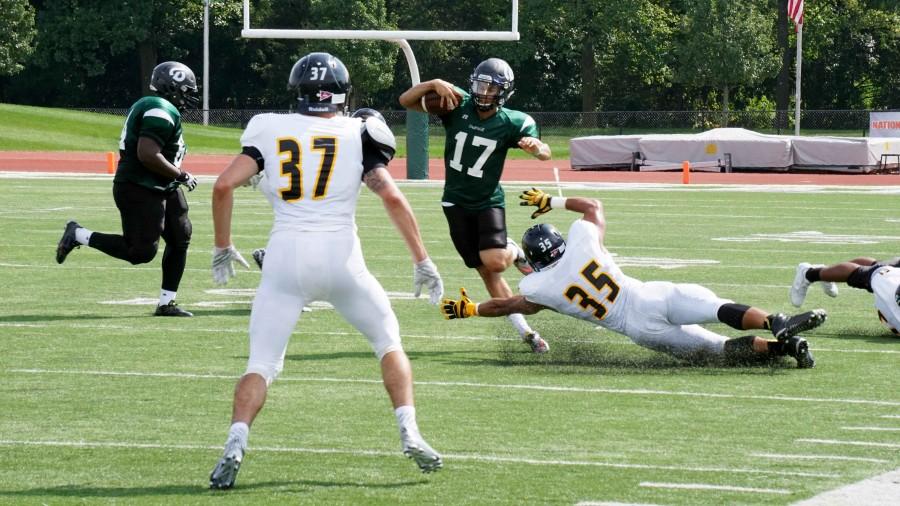 Lucas Koprowski, Sports Editor
October 14, 2015
Reading Time:
2
minutes
The College of DuPage football team charges into their Homecoming matchup this week against Iowa Western Community College with a five game undefeated streak. They defeated Erie Community College this past weekend on Oct. 10 in Williamsville, New York, defeating the team 51-21.
This year, the Chaparrals have been gaining a huge amount of traction with their play, and have been slowly crawling the ranks week by week in the national standings; currently they are currently ranked eighth in the nation after not being in the top 20 teams last season. Compared to last year's team, the team is light years ahead of where that team was at the same time last year.
Last year, the team set up a few hurdles to jump for this year's squad. At the 2014 Homecoming game, the team faced the NJCAA football powerhouse Georgia Military College, where they lost 52-6. The team also faced other top national competitors, where they lost almost as badly, losing to Iowa Western Community College 65-27 and Trinity Valley Community College 73-14.
This year is a completely different story. The team has already avenged their devastating Homecoming loss from last year by going to Georgia and beating Georgia Military Community College, 39-12. The team is also ranked higher nationally than the other two teams, with Trinity Valley being ranked at 16 and Iowa Western ranked 19th in the nation.
Many players on the team team have been excelling at their positions, which has helped the team slowly climb the rankings of the NJCAA. To name a few notable players, sophomore quarterback Devin O'Hara has thrown for 941 yards and has nine passing touchdowns thus far; and sophomore wide receiver Crissean Caver-Williams has caught 23 passes, ran for 309 yards, has found the endzone three times and has 61.8 yards per game.
With a group of players that have experience from last year's season, NCAA teams and the ambition to take their team to the national championship, we should expect yet another W on their record for this upcoming match against Iowa Western on Oct. 17.