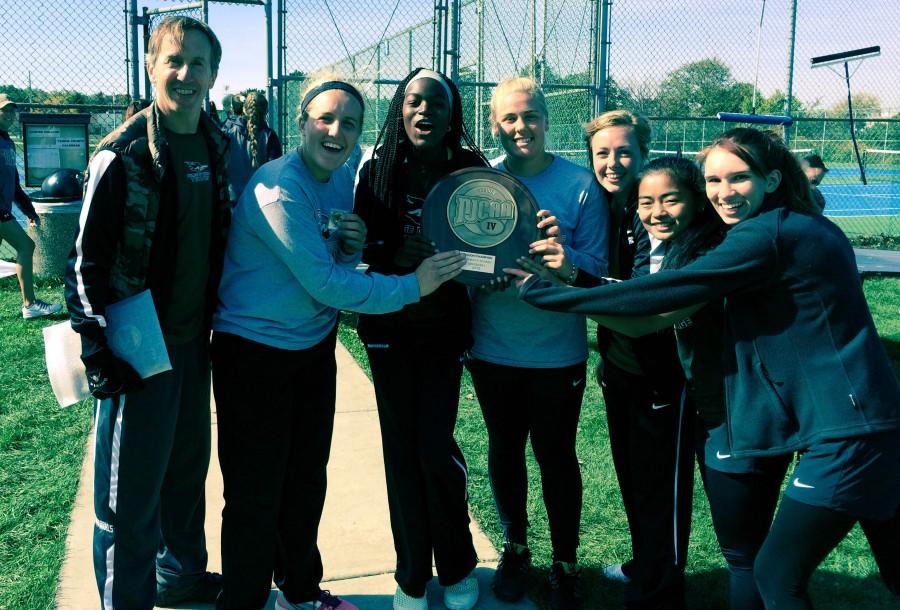 Reading Time:
2
minutes
Chaparral Women's Tennis won the Region IV championship on Oct. 10, allotting them a slot in the NJCAA National Tournament being hosted in Tyler, Texas on May 9, 2016.
College of DuPage won the tournament at Harper College by a good margin, with 4.5 points over the runner up, Moraine Valley Community College, COD having 18.5 points and Moraine Valley having 14 points. A team earns points by winning matches throughout the tournament in both singles and doubles matches.
After the first of the two day tournament, COD had earned 15 points. This means that after the first day, COD was ahead of everyone else in the tournament by a landslide. The runner up, Moraine Valley, would have to win all six of their matches, two of which were against COD, and COD would need to lose all eight of their matches on day two for Moraine Valley to even tie with COD.
The team had five singles finalists for day two, where two of which won their court, first and third singles. In doubles, the team had two finalist teams, first and third, where they won at first court and lost at third.
One of the most aggressive and successful players on the team was on the first doubles team. "Shannon McCarthy was the only COD player to win every match at the tournament," said Head Coach Jim Bowers. "Her doubles partner, Mary Margaret McMahon, played the important and highly competitive first doubles spot and beat a team they also lost to in regular season and were first doubles flight champions."
Chaparral player Molly Seeland was also able to bring out her best by avenging some early season losses during the tournament. She placed third at second court singles, and she reached the finals for fourth singles.
Throughout the season, the team has been working hard towards their goal of winning regionals. Bowers has seen these girls through the thick and thin of this season.
"Early on in the season we lost a scrimmage to Elmhurst College and a dual meet to Moraine Valley, but that didn't discourage the women – it seemed to motivate them to work harder on the practice court where they learned different formations and strategies; technique improvement; mental focus; and increase fitness levels," said Bowers when talking about the season. "They embraced the challenge and continued to improve and by dedicating themselves to a well-rounded, healthy lifestyle – they ended up getting winning results!"
The team has a long off–season until the NJCAA National Tournament on May 9, 2016. With their break, they have a lot of time to develop and stride to even higher peaks in their game. By time they are in Tyler, Texas, they will be an even stronger team than where they were at the Region IV Tournament.