Cross Country Strives for Nationals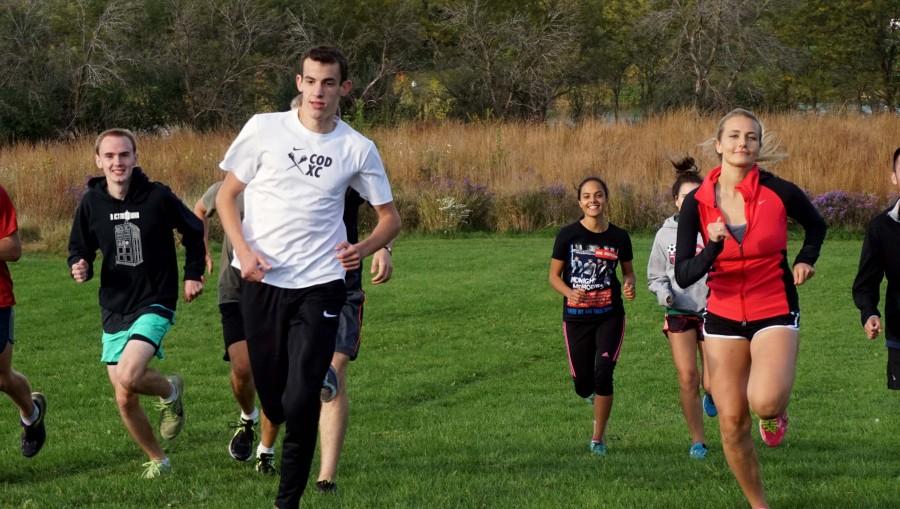 Lucas Koprowski, Sports Editor
October 7, 2015
Reading Time:
2
minutes
Although being a rebuilding year for both of the teams, the Men's and Women's Cross Country team at the College of DuPage is building up a national qualifying squad that is planning to upset their regional counterparts for a spot in the National Championship race in Fort Dodge, Iowa.
Head coach Matt Wilhite has been working with this group of mostly freshman all season, and has high hopes after their last race at the College of DuPage Invitational on Sept. 25. "We've been just kind of slowly growing back into where these kids can develop with the potential that they all have," said Wilhite. "This is a very young team, many freshman, and there's a lot of potential and I think that they're finally seeing the potential that they all have. They're all working very hard to do well and make that goal of making it to the national qualification in Nov."
One of the top runners within the women's team, Sophomore Kotryna Staputyte, has been working hard this past season and has found her stride within her style. "Personally I've made a lot of improvements, especially this year," said Staputyte. "I really enjoy running, I'm enjoying the meets and I'm enjoying pacing myself during the whole process. While last year it was tiring and I was exhausted from running, but I'm really enjoying it."
In the early season, the women's side had a complication with not having enough players to compete as a team, but has gotten past that with finally having seven players on the team to be able to compete as a team. "I think we had sort of a rough start with not having enough girls, but now we have a full team, so that helps a lot with the dynamic," said Staputyte.
On the Men's side, the team has been successful with some very strong athletes leading the pack. "Our number one for most of the season has been Logan Fraker from Iowa. He went to Davenport Central Community High School and has developed a lot as an athlete. Last week was the first time this season he wasn't the top finisher, now that our number one and two are starting to race and get healthy again," said Wilhite. At the COD Invitational, Fraker placed 58th overall and had a time of 28:38 in the 5-mile race.
"In terms of improvements, it's gone really well," said Fraker. "I still have a few goals I want to accomplish, but I think that if I stay on track, like I have been, I will accomplish them."
Looking to the future, Wilhite looks to use this month as a training intense part of the season that will help them make that final push to nationals.
"Our next race isn't till Oct. 17 at Sauk Valley. We will have a couple of kids that have been struggling with injuries this season race at Benedictine on Oct. 9," said Wilhite. For the most part, most of the team will take this three week break and will up the mileage in the training and up the confidence, then go into Sauk Valley and run some nice races. Then we'll have a weekend off where we'll go up to the regional course and do a couple of workouts up there, and then regionals at Harper on Oct. 31."
After the regional race on Oct. 31, the members of the team that qualify for nationals will occur Nov. 14 in Fort Dodge, Iowa.