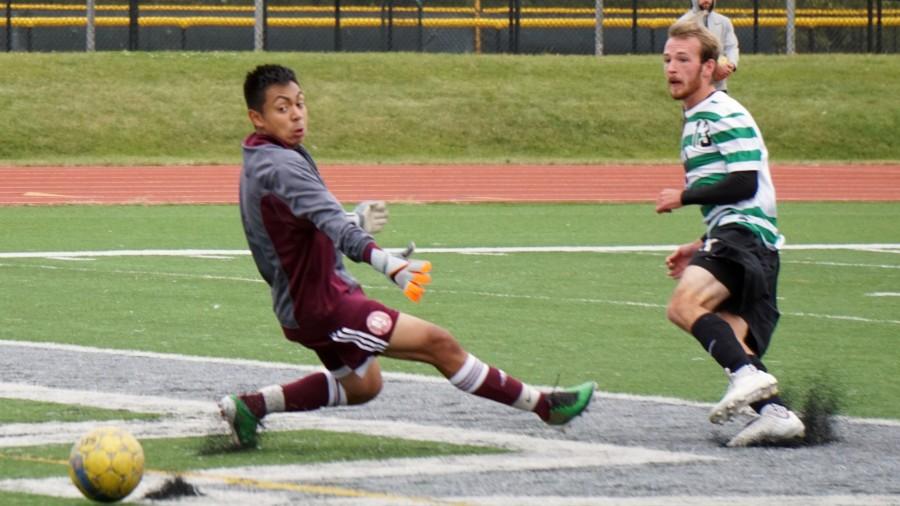 Reading Time:
2
minutes
Chaparral Men's soccer decimated Robert Morris-Lake County 10-0 at the College of DuPage on Oct. 3.
Chaparral Head Coach Jim Kelly thought this game wasn't a test of the team's actual ability. "It wasn't much of a game; they didn't give us any competition," said Kelly. "It was a waste of a game, really."
Robert Morris-Lake County had so many problems with the team that it seemed like the Chaparrals were on a completely different league. First off, Robert Morris had very few substitutes, which leaves a giant toll on the player's stamina and stunts performance on the field. There were multiple stoppage of play for Robert Morris for players due to minor injuries, substituting one and the others powering through their pain.
Secondly, their defense was more of a carnival show than an organized group of players. For example, at the 23", the COD squad rushed the defense from the left side of the field towards the goal. When DuPage reached the front of the goal inside the box, the ball slipped from their possession and a Robert Morris defensive back attempted a wide open goal kick to get the ball out of their defensive zone. The player completely missed the ball that was right in front of him, making the crowd audibly laugh and allowing Chaparral player #16, Cody Dilworth, to crank it to the back of the net, increasing COD's lead to 5-0.
Even if they had substitutes, this match wouldn't have been much of a challenge, due to six of the 10 goals being made by the Chaparral squad within the first 26 minutes of the match. By the 30 minute mark of the game, COD substituted the entire team with their second string substitutes, leaving their less experienced players to score another four goals by the end of the match.
Even though this match wasn't much of a show of COD's skill level, the team has had an impressive season so far of 7-3-1 overall and 3-1 at conference. Although the team has had an overall successful record, Coach Kelly has a different idea of how the team is doing.
"We've been kind of up and down. We've got to improve quickly, or we'll have a problem," said Kelly. "We've been a bit inconsistent so far, so hopefully we'll get things turned around for the playoffs. It's a similar situation to last year, where we were just kind of stuck in a rut; and when we actually needed to play the kids got better quickly and we did well in the playoffs. This year we have to do the same thing."
Chaparral Men's soccer plays next at home against one of our region's powerhouse teams, Morton Community College, on Thursday, Oct. 8.