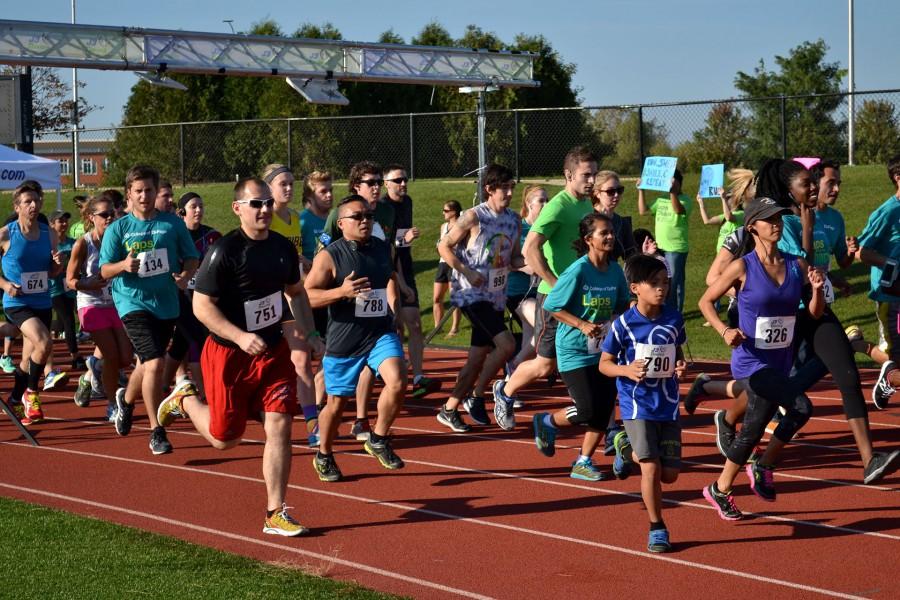 Reading Time:
2
minutes
With a great atmosphere on the College of DuPage campus and his experience from Wheaton College and Purdue University back him, winner in both the men's age 20-24 category and overall champion, Jack Waterman, had a great performance, running at a pace of 5:03 per mile. "I surprised myself running 15:43, so it was definitely a good race," said Waterman. "I thought that there was a good shot that I was going to win, but you never know."
Over the weekend, the annual Laps with the Chaps 5k went off without a hitch at the College of DuPage. This is a 5k run/walk where all proceeds support the College of DuPage Emergency Fund; a fund established to help students that are going through unanticipated financial strains that are at risk of dropping by easing daily expenses, such as meals and bus passes.
For the low price of $5 for COD students, $10 for kids under 12 and adults over 60, $25 for COD employees and alumni, and $30 for general admission, a participant can partake in the race; also, the first 250 COD student registrants to register received a Laps with the Chaps t-shirt and a $2 voucher wrapped up in a drawstring bag.
Although the 5k was the mainstage, there was a lot more to this event. It started at 2 p.m. with delicious food trucks, games provided by Top Golf and kid festivities, such as face painting and bags. The selection of food trucks was a huge attraction, with a wide variety of good eats such as Indian foods like curry, American foods like pizza and grilled chicken, and a wide variety of dessert shops.
At 4:30 p.m., the race began with 672 participants, with 478 of them making it to the finish line. The race took the participants across campus, with the track taking participants from College Road to South Lambert Road, then going onto Tallgrass Road to Fawell C where the runners circled around the parking lot and tracked back to the finish line the way they came. The average pace was 12:29 per mile.
At 5:30, they also had three 100 yard dashes for the kids, where the first boy and girl winner of each one receives a $25 Visa gift card. At 5:45 they announced the winners of each category for the race, which was split by gender and age, and the overall winner. The food trucks and the kid's festivities ended at 7 p.m.
The race was very diverse, with students and community members coming in equal parts to show their support for COD with participation. Vice President of Student Life Miguel Hernandez ran with the Student Leadership Council, and had a great experience partaking in the 5k.
"Everything was so well planned, the food truck are awesome and was a really great bonding experience with my team," said Hernandez. "My favorite part of the race was everyone cheering you on as you run. The volunteers had posters saying motivational quotes as well, which was a really nice touch."
If you want to find out more about this year's race and the results, you can go to http://www.j3timing.com/, look under the "Race Results" tab and find "Laps with the Chaps 5k" under "September 2015."