Up To Speed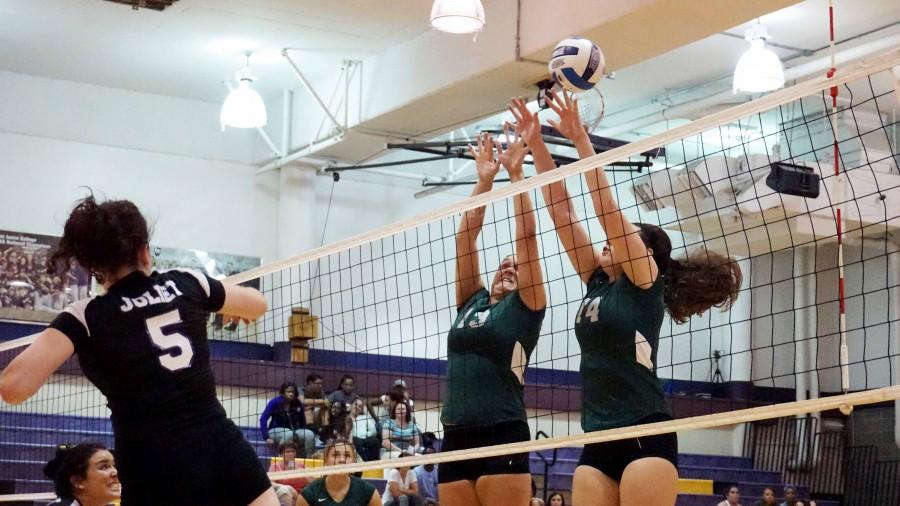 Lucas Koprowski, Sports Editor
September 30, 2015
Reading Time:
3
minutes
Volleyball
Over the past month, the Lady Chaparral Volleyball team has been opening their renewed team's season with consistency, and has been trying to lay down good foundation to their game so that they can move towards their ultimate goal of reaching the National tournament.
To make it to the national tournament, the team only has to win the regional tournament. No matter how many games they win or lose during the regular season, they just have to survive regionals.
The team finished their first round of conference matches for the season this past week, and is currently 3-3 for conference, 5-5 for the season. In conference, they beat Joliet Junior College, Triton College and Milwaukee Area Tech Community College, and lost to Harper College, Rock Valley College and Madison Technical College.
"We start the second round of the conference this coming week", "and I feel we are near our break-out point," said Head Coach Tolis Koskinaris. "The girls are starting to gel very well together, and they are students of the game and their performances.   We have all looked to October as the month we make our push.  Nothing has changed from the original plan."
With the Regional Championship just around the corner, the Lady Chaps plan to kick it into high gear and give one final push for their ultimate goal of Nationals. The team faces Joliet Junior College on Oct. 1, Madison Technical College on Oct. 6 and Harper College on Oct. 13, all of which are home matches that start at 6 p.m.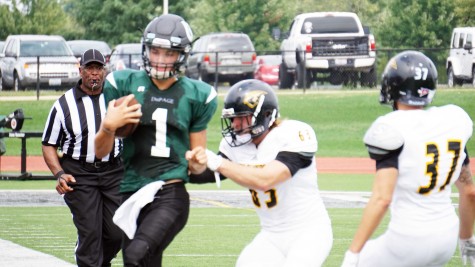 Football
The College of DuPage Football team has blown expectations out of the water so far this season. They have a 3-0 undefeated streak, and they have earned a spot in the top 20 teams in the nation under the National Junior College Athletic Association.
Not only have they bounced into the spotlight to start off this season, they have also beaten Georgia Military College, 39-12. Georgia Military defeated the Chaparrals last year at the first annual Chaparral Homecoming game, 52-6. Although COD has become better since last year, Georgia Military has a noticeably weaker defense than last year, allowing 7.6 more points per game than last year."The players are working very hard to be the best they can in everything they do," said Head Coach Matt Foster. "We are very proud of them but still have a lot of growth in front of us."
Not only has the current Chaparral team been successful, current COD alumni has been breaking into the spotlight as well. COD alumni and former Chaparral Quarterback Zack Mahony debuted on the Syracuse University field, due to injuries in the first couple of lines, leading his new team to beat Central Michigan, 30-27. He also started with the team against Louisiana State University, where the team lost, 34-24.
The Chaparral Football team plays home next on Oct. 17 against Iowa Western for their Homecoming game.Although we lost to Iowa Western last year 65-27, they also have a weaker defense, allowing 10.3 more points per game compared to last year.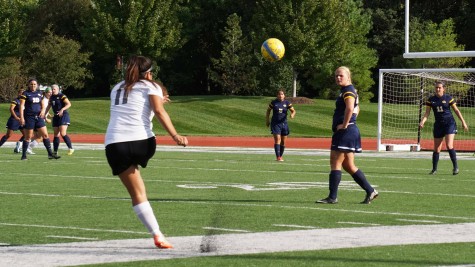 Women's Soccer           
The Lady Chaparral Soccer team has had an explosive season up to date, being undefeated at conference with five wins, and beating the current regional champions and nationally ranked team Rock Valley College 2-0 at home. With their first round of conference matches finished, they have a promising potential ahead of them.
Because of the team being undefeated at conference, they have a very high chance of being this year's regional champions and participating in the national tournament. If the Lady Chaparrals are to make it to the national tournament, they would face the winner of Region 13. The leading team of that region is Rochester Community College, which COD beat this year 5-1.
Not only is the team on the road to be in the national spotlight, some of the team's players have already become ranked highly in the nation for their action on the field. Yvette Hernandez is ranked first in the nation for assists, Melissa Philips is ranked third for points and fifth for goals, and Kaitlyn Fehrman is tied for fourth for points.
With momentum pushing them forward, their next matches are Harper College on Sept. 30, Triton College on Oct. 2 and Waubonsee Community College on Oct. 5, all are home.