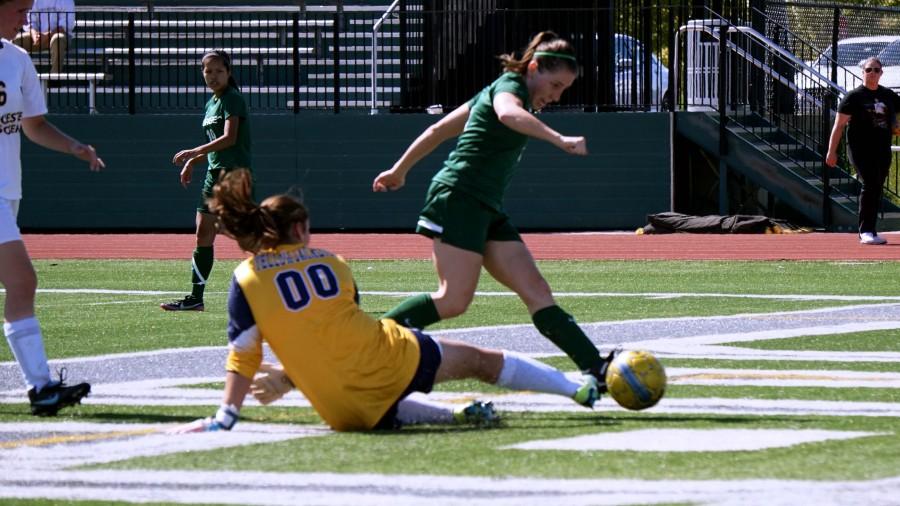 Reading Time:
2
minutes
Lady Chaparral Soccer put another notch under its belt this season when they beat one of the most successful teams in Minnesota Rochester Technical Community College on Sept. 20, 5-1. This brings their season record to 6-5. Although they lost their last match against Moraine Valley Community College on Sept. 19, the lady chaparrals had a five-game winning streak previous, which ultimately gave them their regional-leading record of 4-0.
Willie Fajkus, head women's soccer coach at the College of DuPage believes that the Lady Chaps had a great game on the field. "Rochester is the best team in Minnesota right now. So this was a test for us," said Fajkus. "The way nationals work is that the winner of our region play the winner of their regional for the first round. Because of today's win, I can assume we're on track to that."
Lady Chaparral Striker Ashley Falco believes that this game proves their vast improvement from the beginning of the season. "I thought that we improved a lot since the beginning of the season, and we're finally learning how to play more as a team," said Falco. "Our team is doing a lot to build up a lot more chemistry that we've been trying to get since the beginning of the season." Falco had two shots on goal, one goal and one assist against Rochester Tech.
On Wednesday, Sept. 23, the Lady Chaparrals face their regional rivals Rock Valley College home at 4 p.m Although they are tied in the region, it has been a back and forth battle between these two teams over the past couple of years in the region. "We faced them last year for the regional championship, so I assumed that was how this season was going to pan out," said Fajkus. "Within the region, we're both 4-0."  Last year, COD lost to Rock Valley in the regional finals 3-0.
After Wednesday, the Lady Chaparrals host three home matches in a row. They face Harper College on Wednesday, Sept. 30, Triton College on Friday, Oct. 2, and Waubonsee Community College on Monday, Oct. 5.