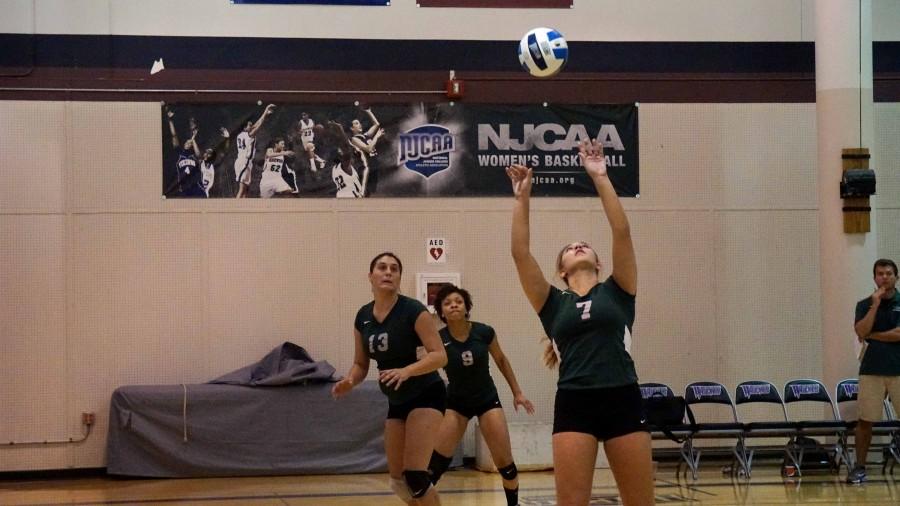 Reading Time:
2
minutes
With a new coaching staff and fresh players, the Chaparral Women's volleyball team has a lot of momentum heading into this season.
Although there was no team last year, the new Head Coach Tolis Koskinaris and his new squad want to bring this team to the next level. "They [the players] know what happened here last year, and I told them all as I was recruiting them what happened," said Koskinaris. "Their goal is to finish the season and get this program back on track."
Last year, the team crumbled due to not having enough players.
Koskinaris has high expectations for his players this year due to the players' individual successes in their past careers. "These girls want to get another banner on the wall. It's not just talk, they literally want to do it," said Koskinaris. "Some of these girls have very tremendous high school stats. Rory [Manion] won a state championship. She has high goals, and many of these players have played at a high level."
Outside Hitter Rory Manion is the most successful on the team, winning a state championship in her senior year of high school at Immaculate Conception Catholic Prep in Elmhurst, Illinois. Koskinaris has said that without her, they wouldn't have as strong of a team due to her help bringing in many of these players. "I just want to do my personal best for every game, so I can give the team my all," said Manion. "I really want to do good so we can benefit the team, and I really see us all working as one this year. I'm really excited and we'll see how it goes."
Many of the players have very precise mindsets on what they need to do to make it to nationals this year. Middle Blocker Tatjiana Wadsworth is the only returning player from last year's early potential team, and has hopes to enter the national tournament with this year's new squad. "It's really hard to stay positive, but positivity is key; especially in a group dynamic," Wadsworth said. "So I feel like if we keep our positivity up, work together and do what we can the team will go far. I feel like there is a really good potential for this team. If we keep pushing we'll go really far this year."
Although there are high hopes to reach nationals by many of these players, the many teams in COD's region have been historically and recently challenging. Although the team has beaten most of the other teams in our region, they haven't beaten Harper since the 2007 season, and there hasn't been a win against Madison in all 8 years of records for the team since 2005.
Koskinaris and many of the players have recognized that Madison and Harper are their biggest challenges to overcome, and have already seen what Harper can do when they faced them in their away season opener, losing 3-0. "Madison and Harper are going to be our two biggest competitors," said Koskinaris. "Harper beat us on Friday [Aug. 28], but we are still just learning our way. Madison from what I saw is a very good team, and they're going to be very tough to beat."
The team plays at Madison College on Sept. 8, and hopefully their win against Joliet on Sept. 3 will springboard them to their first victory against the regional powerhouse in a long time. Only time will tell how well this team does, but with their evolved game philosophy and persistence we may see a historical season.