Opening Shutout
Chaparral Football wins home opener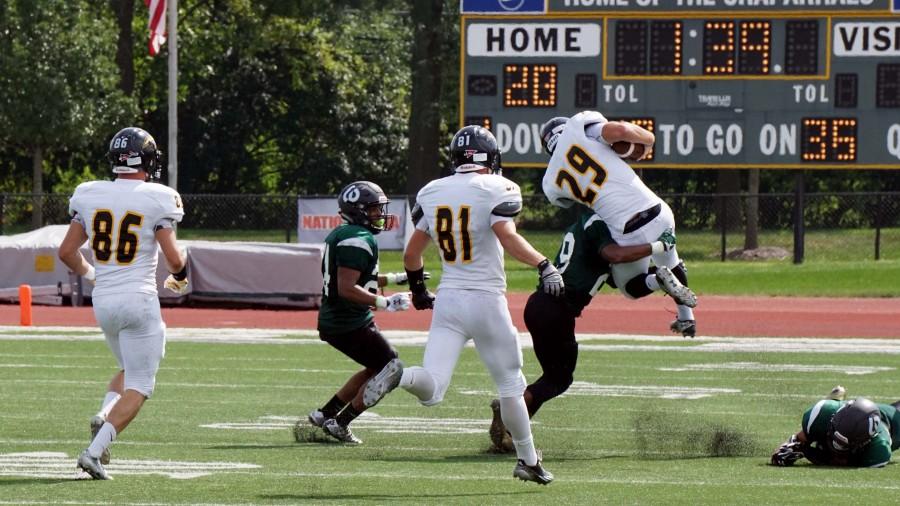 Lucas Koprowski, Sports Editor
September 15, 2015
Reading Time:
2
minutes
The Chaparral Football team shutout the University of Wisconsin Oshkosh JV 28-0 with their season home opener on Sept. 7. This is their first shutout of the season, and their last one since Sept. 7, 2014 against Illinois Wesleyan JV 31-0 exactly one year previous.
"I think as good as it is, we have a long ways to go to get better," said Head Coach of the Chaparral football team Matt Foster. "We have a lot of thing we can improve on, and I think we're just starting to scratch the surface of our young team. I think if we just keep improving it, and cut down on the mistakes that we make, we'll be in great shape for the rest of the year."
Although there were minor mistakes that could be improved upon, such as fumbling, holding, and helmet-to-helmet contact, the team shined brightly under the hot Labor Day sun. Running Back Linell Gaston had a great game, with 21 rushing yards and a touchdown. "While we had a lot of mental mistakes and touchdowns called back; I think it was a good team effort," said Gaston. "It gets us ready for Georgia Military."
The team's next challenge is on the road on Sept. 19 when they face Georgia Military Community College. Last year, the Chaparral football team faced them for their Homecoming matchup and lost 6-52. "They're a great team, we're traveling far, and we're going to definitely face some adversity," said starting Quarterback Devin O'Hara. "We just got to do what we got to do and execute to our full potential." O'Hara had 11 complete passes out of 13 attempted, and passed 174 yards against Oshkosh.
Their next home game is on Saturday, Oct. 17 when they face Iowa Western Community College during Homecoming at 1 pm. Free food is provided, while supplies last, during the tailgate event beforehand from 11 am to 1pm; so don't miss out on some good ole chaparral fun!