A shot at reinvention
Column: Editor-in-chief reflects on time at COD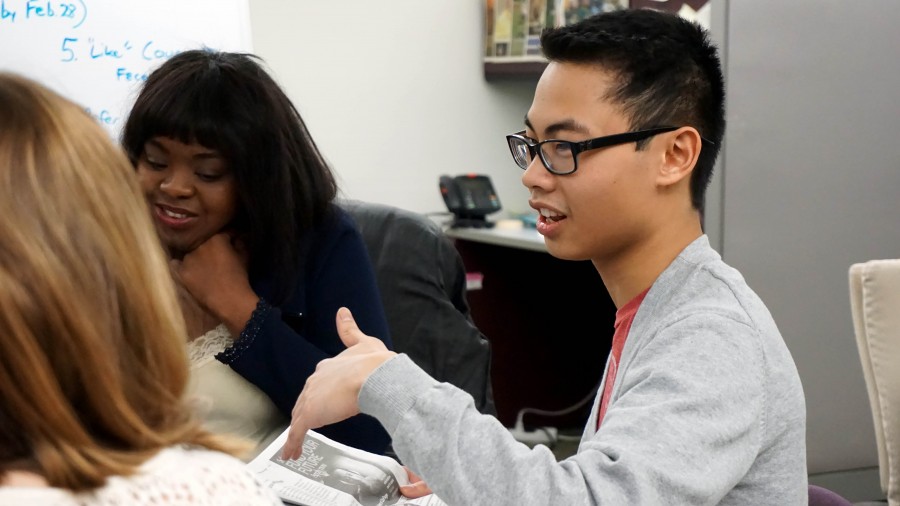 Joash Mencias, Editor-in-Chief
May 6, 2015
Reading Time:
3
minutes
To say I have learned a lot about journalism in the past few years would be an understatement. During my time as news editor and editor-in-chief at The Courier, I discovered what can't be taught in the classroom: the hard work involved in reporting, the value of listening to others, the vital role of the press in our local community and the changing nature of the news industry.
However, I would have never imagined encountering an enormous breadth of human diversity. In this community college alone, there are at least 30,000 people. That means there are at least 30,000 stories as well. The students, faculty and staff at this college come from all walks of life, creating a colorful heterogeneity that can't be matched at a four-year university.
I came to College of DuPage directly from high school as a traditional-aged college student. However, I found my age bracket to be out of the norm in some of my classes. My classmates were in their 20s, 30s, 40s, even pushing past 60. Walking down the hallways, I see people of different races, faiths and backgrounds.
But what binds this diversity of people? I think it has to do with the idea of reinvention.
Reinvention is in the college's DNA. In 1967, COD's first enrollees attended classes at local middle schools and high schools, since there was no established campus. Now, we study and work in state-of-the-art behemoths we call by acronyms: SRC, BIC, HSC, TEC, to name a few.
But even more compelling is the fact that tens of thousands of people, touched by COD in some way, shape or form, have proven themselves to be masters of reinvention.
At this institution, we all have heard stories of students at different points in life: the freshman using community college as a stepping stone to a bachelor's degree. The young adult finally discovering his purpose in life. The single mother on the path to provide for her children. The soldier returning from conflict halfway around the world. The laid off worker going back to school, fighting for a way back into middle class life. These are the stories defining our student body.
Even at COD's inception, these types of stories were already being written. In 1967, The Courier profiled Gloria Robinson, a former petty officer 3rd class in the Navy. The Filipino-American mother of two took advantage of the GI educational assistance program. This allowed her to enroll in classes, with the ultimate goal of getting a teaching job.
It wasn't easygoing for Robinson. The article stated her children "make studying during the daytime impossible." And when she attended class, a babysitter had to take care of her children. Robinson also regretted spending less time with extracurricular activities such as ones at church.
She summed it up this way: "I'm still enthusiastic, but it's so hard."
Robinson, already a pioneer for a time when not many women had served in the armed forces, reinvented herself by going back to school.
I think we all have a little bit of that same spirit Robinson had. We are bound by a common goal of creating a better version of ourselves or paving a new path for our future. We may have had to sacrifice time, money and energy pursuing a higher education, but we are still forging ahead to a hopeful future.
To the sliver of the COD community I've interviewed or simply chatted with: thank you for sharing your stories with me. I am truly grateful for my experience here at COD. I have not only gained important journalism skills, but I have also discovered the beauty in our shared human experiences.