Up to Speed
Lucas Koprowski, Photography Editor
April 8, 2015
Reading Time:
3
minutes
A recap of COD sports over spring break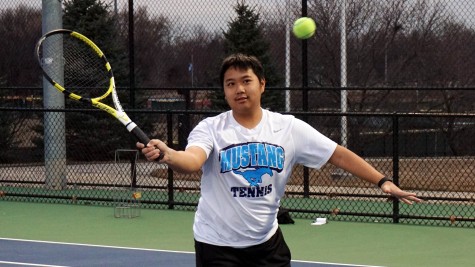 Lucas Koprowski
Tennis
Over the past two weeks, the tennis team has had a successful start to their season being 2-1. Against both Lake County and Sauk County, the Chaparrals won both meets 7-2, but lost against Prairie State 0-9.
At Lake County, the first and second singles lost their matches, but all six doubles courts won their matches. At Sauk County, first singles and first doubles lost their matches, while the rest of the courts won.
Coming out of those wins though, they lost to Prairie State badly. The only court that was a close match was fifth singles, where Danny Simmons lost both sets 7-6 and 6-4. The rest of the other courts lost both of their sets by a larger margin.
Jim Bowers, head coach of the men's and women's tennis teams, has high hopes for the season coming up.
"We still have six matches, so it's too early in the season to know what the skill level is of the opponents we haven't seen yet," Bowers said. "But one thing we can control is our drive to compete to the best of our abilities."
Bowers also had advice for his athletes.
"Stay positive even when adversity hits, and have fun on the court while representing COD. If we do all of that – then life is good."
Their next match is Thursday, April 9 at Elgin Community College.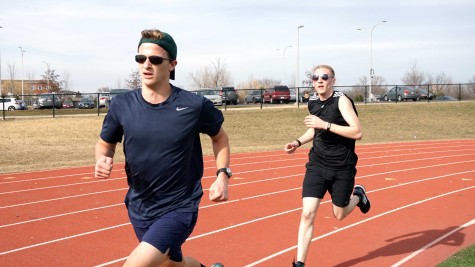 Track
With athletes already qualifying for the National Championship in May, there are high prospects for the early track and field season.
Four of the seven women on the team have already qualified for nationals from their personal records in the last two meets at Augustana and Wheaton College.
The men's side is a different story. "We had a couple sprinters do pretty decent and a couple of our long distance do pretty decent," said Matt Wilhite, head coach of track and field. "It looks like they're getting ready to hopefully make that move for the national qualifying marks in the next couple weeks once we get a couple warm days."
These first couple of weeks, the entire coaching staff has seen an increase in focus from their athletes, and a renewed spark of determination throughout since the beginning of the outdoor season. "It's really hard with track and field to stay focused since we start up on Dec. 1," Wilhite said. "Once you get that first meet in, and you feel the cobwebs kind of shake off the legs, you'll start to feel a little faster and stronger. You'll start getting excited again."
Their next meet is April 10 and 11 at the College of DuPage for the Chicagoland Outdoor Championships.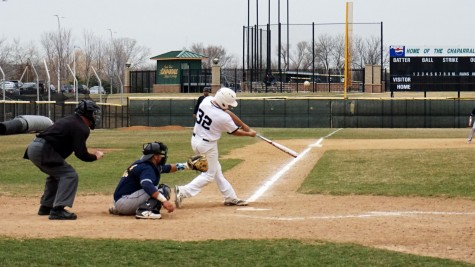 Baseball
Although owning up to a strong season as a whole, the past two weeks have been tough for the Chaparral Baseball team with a record of 3-4.
In the two matches against Milwaukee Area Technical College on March 31, they won the first game in five innings 12-1, then won the second in seven innings 9-1. Coming out of that, they lost twice to Illinois Valley Community College 5-1 and 11-7.
On April 2, they beat Elgin Community College 5-4. To end their spring break stretch, they lost to Madison Community College twice; the first 16-4 in five innings and the second 6-5.
Compared to last year, the team is at a much better position. They ended the season last year 23-22 overall, while this year they stand at a much stronger 15-8.
After only winning 3 or their 12 games last year, they are 2-2 so far in conference this season. The team shows promise, although it is still early in the season. With 13 conference matches left, they still have a long stretch ahead of them.
After two road games against Olive-Harvey College on April 9 and Harper Community College on April 11, there is a home game against Triton College on April 12.