Founder of '100+ Women Who Care' receives award
COD Women's Studies Committee gives local philanthropist honor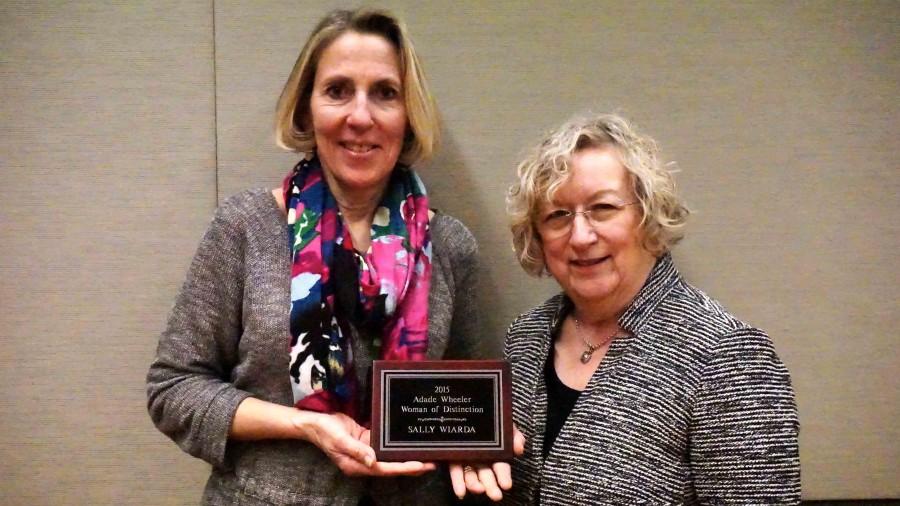 Joash Mencias, Editor-in-Chief
March 25, 2015
Reading Time:
2
minutes
Over the course of eight years, more than 30 nonprofit organizations in DuPage County have collectively received at least $320,000, due in part to the leadership of Sally Wiarda.
Wiarda, who founded a local chapter of a fundraising organization, recently received the Adade Wheeler Woman of Distinction Award. The Women's Studies Committee at College of DuPage bestowed Wiarda the honor at a ceremony March 19.
"This is an unexpected honor," Wiarda said. "It's just such a joy to me to be able to do this."
Wiarda launched the DuPage County chapter of 100+ Women Who Care in 2007. Wiarda and her group meet quarterly to decide which local charities should receive a donation. In the spirit of collective giving, each member of the group pitches in $100 every meeting, raising thousands of dollars in the process.
In addition to Wiarda, six other women were nominated for the annual award, including Dilyss Gallyot, COD nursing professor, and Saraliz Jimenez, coordinator for the college's Latino Outreach Center.
Humanities Professor Julia diLiberti, one of the event's organizers, said a selection committee picked Wiarda for her continued impact in the community.
"Her work is of far-reaching nature," diLiberti said. "It's not something that's already done and finished. Sally is still doing work."
Wiarda has served as a mentor for other like-minded philanthropists, leading to the creation of eight additional chapters of 100+ Women Who Care in the Chicago area.
Wiarda's group has helped a variety of local nonprofits such as the People's Resource Center, the Midwest Center for Homeless Veterans and the DuPage Children's Museum.
"There's always a need in DuPage County," Wiarda said. "We're helping people living amongst us."
In her acceptance speech, Wiarda challenged the ceremony's attendees to take up a charitable cause.
"I encourage everyone to do whatever you are called to do," Wiarda addressed the audience. "If you have an idea, don't wait."