Tennis team strives for victory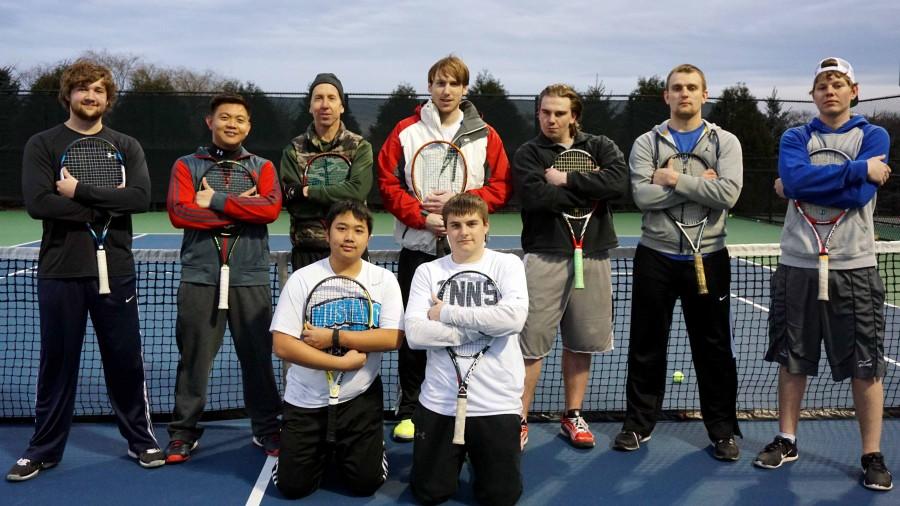 Lucas Koprowski, Photography Editor
March 25, 2015
Reading Time:
3
minutes
The Chaparral men's tennis team has an interesting season ahead of itself. From the team's unique roster to its slate of opponents, this group has a journey ahead of them that may lead them to a national tournament in Plano, Texas this May.
One of the most unique traits of this team is that there are no returning sophomores, according to Jim Bowers, head coach of the men's and women's tennis teams.
"I've been here for over 10 years now, and we've always had some returning sophomores," Bowers said. "Our greatest weakness this season is that we are inexperienced at the college level, but everyone here comes from a strong high school background. I think we will be able to rise to the occasion."
Because the team consists of all freshmen, the lineup isn't set in stone, and there is no outstanding leadership other than the coaches.
"Everyone has something they bring to the team," said Joshua Abarca, assistant coach and an alumnus of College of Dupage. "Since it's still early in the season, I haven't really had the chance to know every single one. I wouldn't be able to say who the leaders will be."
Although this group has yet to develop as a team, their biggest match of the season is approaching fast.
"This Thursday, March 26, is our first dual meet of the season is against Prairie State," Coach Bowers said. "It's the most important one of the season, because they have been the Regional Champions the last two years."
A dual meet is where two colleges face each other. There are nine matches in a dual meet, with six singles matches and three doubles matches.
When talking about the competition, Abarca expressed how he envisions the challenges ahead. "Moraine Valley and Elgin are also tough competition," Abarca said. "It's tough going against these teams, because everyone has a different game on court. You always have to play the person in front of you. It doesn't matter which team it is, if you play your game and fix your mistakes on court you should come out as a winner."
Although their biggest competitor is right in front of them, their regional tournament is just shy of a month away. Between Prairie State and the regional tournament, there are seven more meets that they have to utilize to help them improve their game. "Tennis is 80 percent mental and 20 percent physical," Abarca explained. "Once you learn the game it's all mental. Some of the younger players have to get their minds straight on court."
One of the freshman players, Danny Simmons, expects everyone to improve this season, whether it's their physical or mental game. Although he himself coaches tennis during the winter, he also has to make improvements on his game.
"I'm pretty good at serving, and I have a really good forehand," Simmons said. "My weakness is probably my backhand, I need to work on that a little bit."
Another player, Alan Bui, also expects the team to go far this year.
"Of course, we want to win regionals, after that we'll see how far we can take it in nationals," Bui said. "It's going to be a great season. These guys are great, and they're all pretty good teammates so far. A lot of them come from different tennis backgrounds, but we all get along. Tons of talent."
Both the coaches and players hope to see the team be successful during the season and at regionals. Between Prairie State and regionals, there will be four more away meets, and three home meets: April 2 against Waubonsee; April 3 against Sauk Valley; and April 16 against McHenry. After McHenry, regionals are on April 23 to the 25 at Harper Community College.