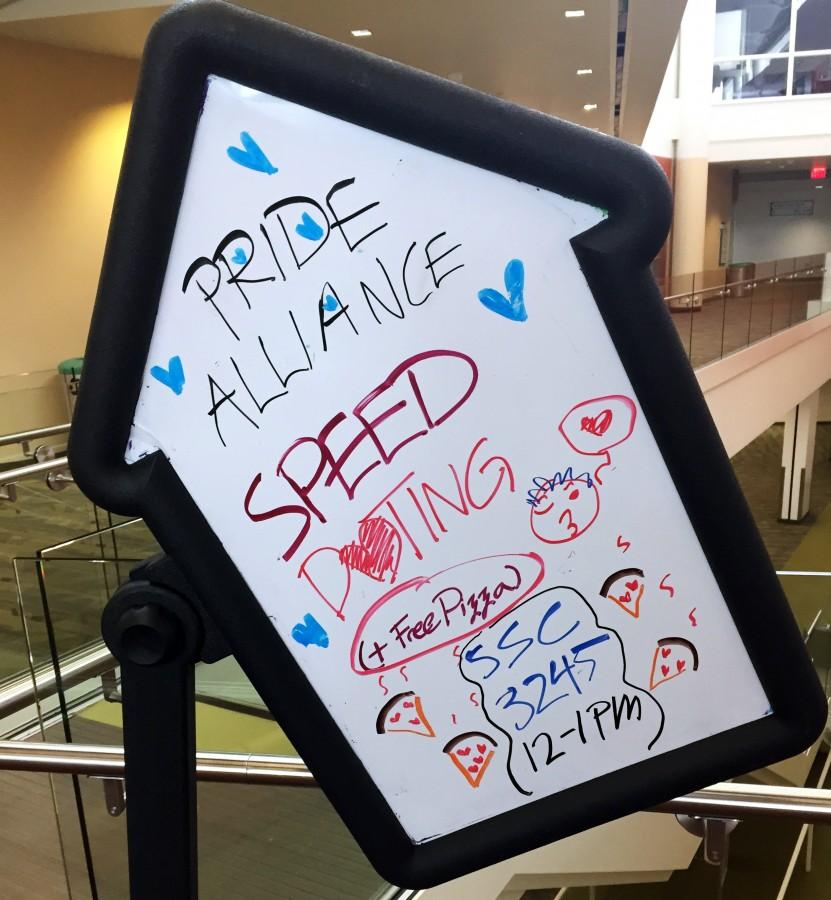 Kelly Wynne
Reading Time:
2
minutes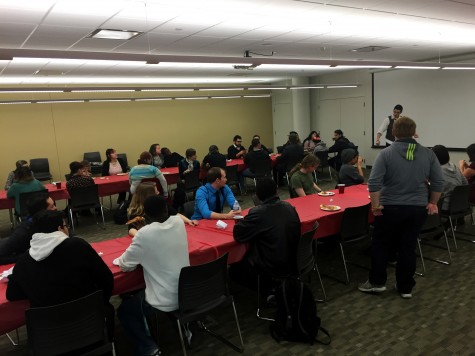 In celebration of Valentine's Day, Pride Alliance hosted their third annual Speed Dating event. The hourlong lunch social focused on bringing people together for friendship or the occasional love connection.
Entering into the event, no attendee seemed to know what to think. Expectations were nonexistent for most, as many just hoped to have a good time. Several seemed to be more excited for the free pizza than for the possibility of true love.
Student Mark Murphy came into the experience with no expectations.
"At a school of over 30,000 students, you never know who the hell will show up," Murphy explained.
When walking in, some hovered at the sides of the room, not sure if participating was right for them. Student Luis Diego was curious to see how the event worked before deciding if he should jump in. He felt that the setting wasn't an unrealistic way to make a connection.
"I think the best possible outcome would be actually finding someone and starting to date," said Diego. "I definitely think it's possible."
As the clock struck noon, daters arranged themselves around two large tables, set with battery powered candles and bowls full of icebreaker questions. Questions included prompts like, "What do you do during thunderstorms?" and "Sweet, sour, spicy or bitter food, and why?" For those who didn't know the person opposite them, the pre-written questions helped provide an instant conversation starter.
Each "couple" was given two minutes to talk before the alarm sounded and they were required to rotate to the next person.
Although the mixer was originally designed with Valentine's Day in mind, over the years Pride Alliance has seen friendships blossom from the opportunity. Many student life regulars already knew each other coming into the event, so sitting in an otherwise nerve-wracking situation didn't seem too stress
Tips for speed dating
Dress to impress
Attendees owned the room with their individual styles. Wear something that makes you feel like yourself in whatever will make you feel confident. Being true to yourself is the key to having a good time and possibly making a connection.
Don't be shy
You only get two minutes to make sure your "date" gets to know a little about you, so speak up! Ask questions and be open when answering them.
Come prepared
Although icebreaker questions are usually provided, it's never a bad idea to have some questions of your own ready. Think about what you want to know about the individuals you meet and go from there.
Be open-minded
So you sit down and the person across from you isn't quite your type. That doesn't mean there isn't a potential for at least a friendship. Take the time to get to know the other person before writing them off as someone you wouldn't get along with.
Have fun
Don't take yourself too seriously. Chances are many of the people you'll meet are nervous, so take the initiative to shake off the nerves and laugh a little. Bring a sense of humor and a light attitude to the conversation. You will be sure to have a good time while making it a little more relaxing for each of your dates.