EXCLUSIVE: Breuder Speaks On His Retirement to College Staff
Breuder outlines ambitious plans during meeting for college employees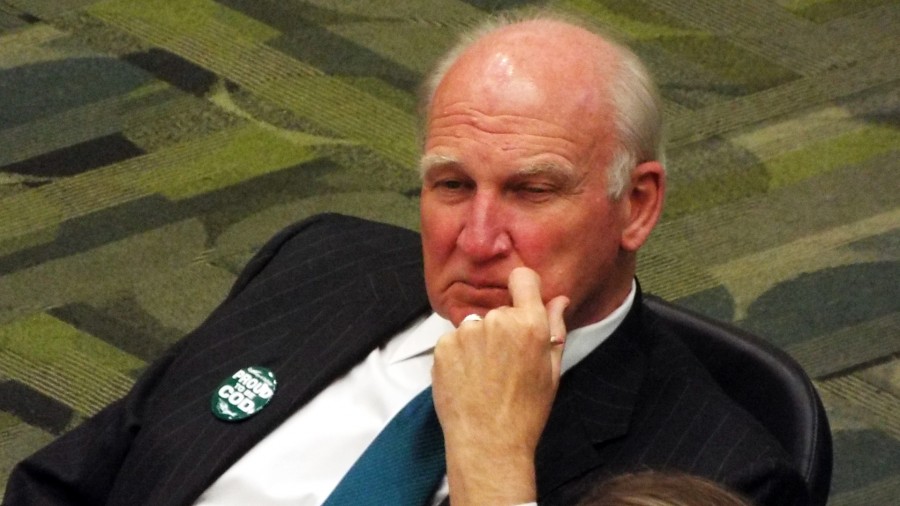 Taira Alabi and Joash Mencias
January 30, 2015
Reading Time:
2
minutes
Speaking candidly to members of the COD community for the first time since news broke of his buyout, President Robert Breuder laid out several institutional plans during an internal meeting for college employees  on Jan. 29.
"I am not going to think about last night," Breuder said regarding the much-publicized board of trustees meeting on Jan. 28. That meeting, attended by many angry citizens, focused on Breuder's controversial $763,000 severance package.
Instead, Breuder told the hundreds of employees gathered in the McAninch Arts Center that he will work to accomplish a handful of large goals before his retirement on March 31, 2016.
"I can't check out for 13 months," Breuder asserted. "I want to give the best of who I am and the best of my 35 years of experience."
Breuder announced he will recommend the trustees to use the college's funds to build the Teaching and Learning Center, which was the subject of controversy last summer. In an email sent in May, Breuder referred to the proposed center as "a project that would help release our state funding," coinciding with former Gov. Pat Quinn's commencement speech. Quinn ultimately withheld $20 million in state funding.
Breuder maintained his goals of reaching all-time college enrollment records and lobbying for state legislation to allow community colleges to offer bachelor's degrees. Breuder will also help in the process of selecting a new college president, as stipulated in his severance package.
As for his critics, Breuder requested they look elsewhere.
"I am appalled at people who criticize this institution," Breuder said. "Go to Springfield and fix that."
While Breuder focused his address on the college's plans, he also told the crowd they helped the college achieve outcomes that Breuder felt his detractors were quick to overlook.
"You built it, you achieved it, you accomplished it," Breuder said.
Breuder also encouraged college employees to pay attention to the upcoming board of trustee elections.
"Do not disengage yourself," Breuder said. "Make an informed decision."