Taylor wows MAC audience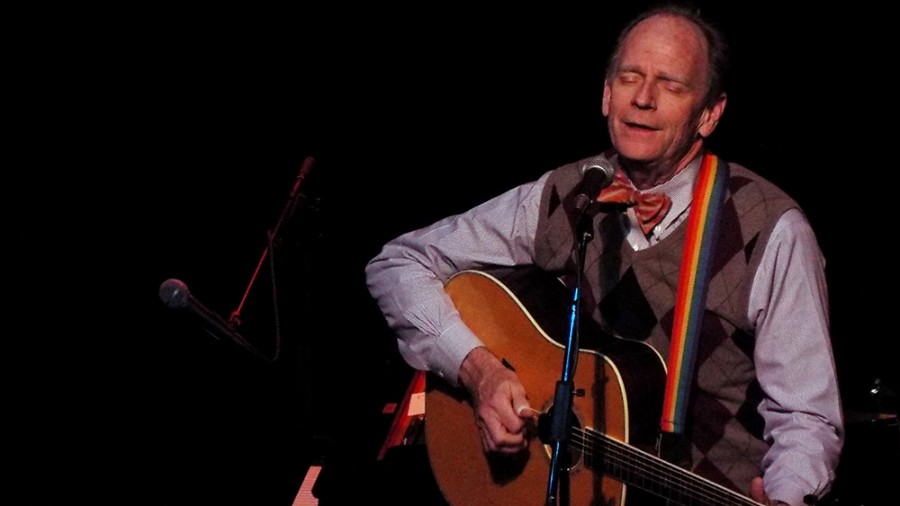 Kelly Wynne, Features Editor
November 14, 2014
Reading Time:
3
minutes
The lanterns of the Playhouse Theater gleamed as Livingston Taylor played his acoustic set at the first Club MAC concert of the season on Nov. 14. As Taylor wrapped up his performance, audience members cheered with smiles on their faces.
Livingston's brother, James Taylor, became a household name in folk music, rising above his also-talented siblings. As the night at the MAC went on, Livingston proved to Glen Ellyn residents that he does not reside in his brother's shadow. Although Taylor has a similar sound to his brother, he brings a character to his songwriting that gives him a push in his own direction.
The atmosphere at Club MAC was aimed to keep attendees comfortable and create an incredibly intimate setting. Snacks and alcoholic beverages were available for purchase before the show as well as during intermission.The night was arranged in an "unplugged" style from Taylor's exclusively acoustic set to his commentary between songs.  The feel of the room was so close audience members even responded to some of Taylor's comments. Taylor probably didn't need to use a microphone with how well the acoustics in the venue resonated, and the crisp guitar filling the room made the show that much better.
Many audience members were familiar with Taylor, but most did not know much about him. To celebrate his 71st birthday, glen ellyn resident Billy Ristau came with an original Livingston Taylor record in tow, even though he had only read about the concert that morning. Ristau expected Taylor to have an acoustic, folky set similar to his brother's sound. He was spot on with his prediction.
Taylor took the stage with his acoustic guitar and a piano behind him. The simplicity helped attendees focus on the music instead of becoming distracted by loud instrumentals. He took time to speak in between songs explaining how he wrote them or acknowledging his musical inspirations. Taylor even talked specifically to musicians about how he learned his chords, and also commented on a common complaint among musicians when he said, "Guitarists, do you know how bad the F chord used to hurt? Well, it never goes away. My fingers are killing me right now." He cracked jokes and told stories of his travels, which longtime fans of Taylor found unusual.
Lifelong fans of the Taylor brothers, Roberta and Ken Klamm, have followed Livingston's performances for the last 40 years. "He's more free formed and he toys around with other artist's songs," said Roberta Klamm. Ken Klamm agreed that Taylor has become chattier with age, and his stage presence has improved over time.
Taylor brought an obvious sense of enjoyment to the room. It was crystal clear that he plays and writes because it is his passion, not because of his family's expectations or his own namesake. This is a man who could play hours upon hours, probably until his fingers bled, just because he loves it that much. Audience members watched in awe as Taylor's nimble fingers moved up and down the neck of his guitar faster than someone about to beat the highest level on guitar hero. Despite his impressive skills, Taylor's instrumentals only aided his lyrics and folk sound, steering clear of upstaging his total package.
Not only do Taylor's lyrics come from a deeper place, but his overall desire to strum takes over as he plays. Audience members could tell by the look on his face that he had truly found his bliss. The passion he embodied throughout the night was an incredible escape from modern day music, much better than "Anacondas" and "turning up."
The Playhouse's atmosphere was so relaxed that audience members felt as if they were sitting in their own living room watching a talented man pick up his guitar for some party entertainment. Taylor's stage presence portrayed him more like a friend than an untouchable figure in music, and the show should be added to the MAC's list of greatest successes.