Courier Netflix suggestions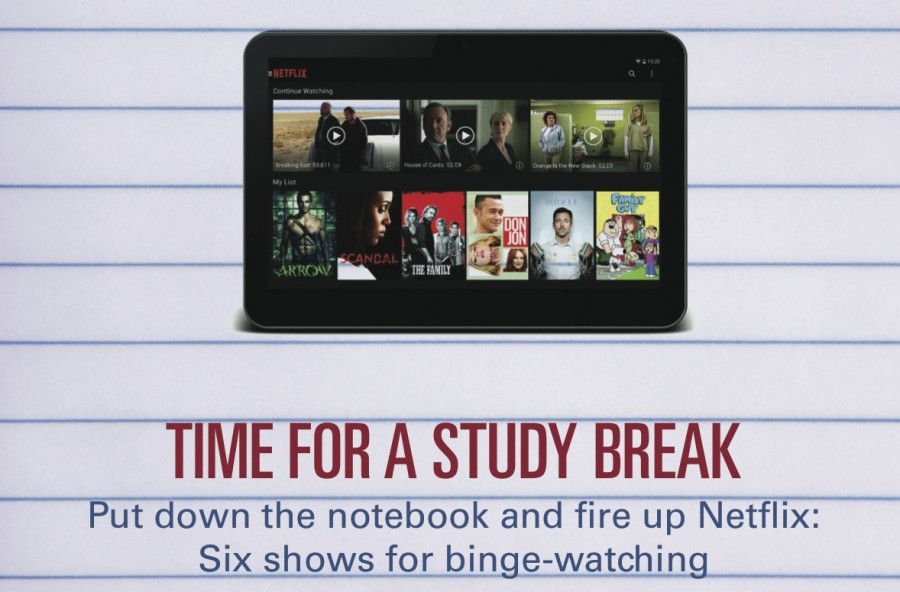 Kelly Wynne, Features Editor
November 5, 2014
Reading Time:
2
minutes
Now that the weather is turning colder and midterms are finally over, you might finally have time for that lazy day you've been waiting for. The Courier has put together a list of binge-worthy TV shows sure to leave you eager for the next episode. All are available on Netflix.
If you like Law and Order and Gossip Girl: try Scandal
Seasons on Netflix: 3
"Scandal" follows the days of lawyer-turned-political-fixer Olivia Pope as she takes scandalous cases and makes problems disappear for high-class members of Washington, D.C.. As seasons go on, viewers will begin to see inside Pope's personal life as she decides her own future. "Scandal" has a combination of slight gore, politics, crime solving and romance unlike anything else.
If you like Family Guy: try Bob's Burgers
Seasons on Netflix: 3
"Bob's Burgers" is an animated show that focuses on a family owning a burger restaurant. Each episode is a different storyline, so it isn't necessary to watch them in order. The show takes a small amount of crude humor and twists it into a family lifestyle, although not crossing the same lines found in shows like "Family Guy" and "South Park." Viewers will find themselves laughing out loud, even if watching by themselves.
If you like Lost and Criminal Minds: try The Following
Seasons on Netflix: 2
"The Following" focuses on the widespread influence of a serial killer, and the cult that he has created. Although in jail, murders have taken place that allude to his influence. Kevin Bacon stars as an ex-FBI agent trying to catch the culprits. Viewers will find themselves getting caught up in the mystery. This show is more graphic than some of Netflix's other options. If you do not like gore, this may not be the best option for you.
If you like The Vampire Diaries: try Arrow
Seasons on Netflix: 2
"Arrow" follows the life of Oliver Queen, who transforms himself into a superhero after a shipwreck on an island which causes him to rethink his playboy lifestyle. Queen takes on the identity of a crime fighter who uses a bow and arrow as his choice weapon. The fantasy series will be enjoyable for anyone willing to get caught up in a story of injustice and a hooded-hero fighting to fix it.
If you like One Tree Hill and Friends: try Gilmore Girls
Seasons on Netflix: 7
Emmy Award-winning show "Gilmore Girls" follows the life of single mom and daughter, Lorelai and Rory, a smart student hoping to get into an Ivy League University. Both Lorelai and Rory have their share of relationships, through which they support each other. The show embodies a strong mother-daughter bond, which isn't seen very often in today's television. "Gilmore Girl" has a mix of humor and drama, which will leave viewers feeling connected to the characters.
If you like The X-Files and Alfred Hitchcock Presents: try The Twilight Zone
Seasons on Netflix: 4
Although Halloween is over, it's not too late for a little scare. "The Twilight Zone," which ran from 1959-1963 is filled with short stories from those of possessed dolls to oversized humans. Although all fictional stories, they may have you wondering what you heard go bump in the night. Each episode is different, so it isn't necessary to watch them in order.